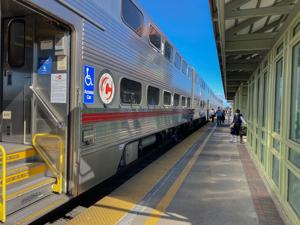 By By Zachary Clark Daily Journal staff at www.smdailyjournal.com - RSS Results in news/local of type article
Without Caltrain, residents can expect traffic congestion to be worse than it was before the pandemic, proponents of the measure argue."Voting yes on RR will remove thousands of cars from our highways every day," reads the official ballot argument against the measure. "Without Caltrain, traffic congestion will soon be worse than before COVID-19."
Without Caltrain, residents can expect traffic congestion to be worse than it was before the pandemic, proponents of the measure argue."Voting yes on RR will remove thousands of cars from our highways every day," reads the official ballot argument against the measure. "Without Caltrain, traffic congestion will soon be worse than before COVID-19."
article date: 2020 09 30
posted: 2020-09-30 19:45:42
Tags: Bay Area ,noteworthy links
Related News
The Testing Wars Have Begun: Oakland Airport Wants To Attract Passengers With Free Rapid Covid Testing - View from the Wing
It was only Thursday that United Airlines announced they would offer rapid coronavirus testing at the airport in San Francisco for passengers taking its Hawaii flights. Testing would be available by appointment, with results available in 15 minutes, and the airline hoped the $250 price point would come down in the near future. Since then Hawaiian Airlines also announced same day airport testing coming for its passengers for $150. The State of Hawaii plans to allow people to enter the state without 14 day quarantine starting October 15, provided they present a negative Covid test taken within 72 hours of arrival. United says the state will accept their Abbott rapid tests. Now Oakland airport is announcing that its Hawaii passengers can get rapid tests for free starting October 15.
Wildfires Return to Areas of Wine Country Burned in 2017; Evacuation Orders Hit Santa Rosa, Kenwood, Glen Ellen
Parts of Santa Rosa that either burned or were in view of the burning three years ago were under mandatory evacuation orders Sunday night as more fast-moving fire spread into Sonoma County from Napa earlier in the evening.
Drop in San Francisco Rents Has Accelerated
Having slipped under $3,600 in August, the weighted average asking rent for an apartment in San Francisco has just dropped to under $3,400 a month, which is down nearly 6 percent over the past month alone (having dropped closer to 3 percent a month over the prior quarter), down over 20 percent on a year-over-year […]