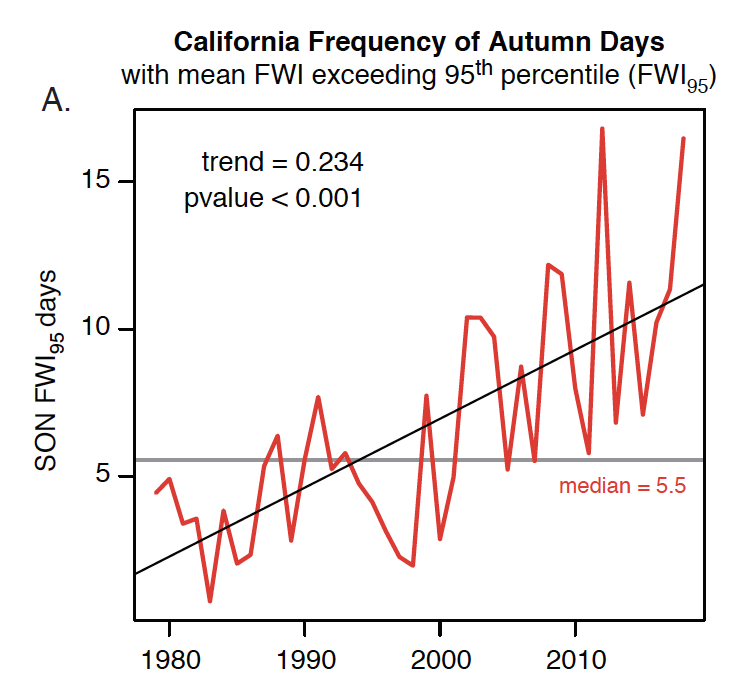 fire problems will worsen in California in coming years due to climate change
By Daniel Swain at Weather West
As it turns out, the short answer is…yes: we found that climate change has already more than doubled the frequency of extreme autumn wildfire conditions in California over the past ~40 years. This finding is based on observed changes in the frequency of occurrence of autumn days exceeding the 95th percentile of the historical Fire Weather Index (FWI). The FWI gives a quantitative estimate of the severity of wildfire risk using a multivariate suite of meteorological data (including temperature, humidity, wind speed, solar radiation, and vegetation "fuel moisture" (which itself incorporates antecedent weather/climate information)). Overall, mean September-November FWI in California increased by about 20% between 1980 and 2018—a trend that was distributed fairly uniformly across the state, including both coastal and interior regions in the north and south. We further found that the occurrence of extreme FWI days was strongly associated with days on which large wildfires occurred—strengthening the link between increasing FWI and the severity of actual fire conditions on the ground.
Much can also be done to improve the resilience of communities as well as individual structures to wildfire hazards. While the oft-promoted notion of "defensible space" is a good place to start, recent evidence suggests that other interventions are even more effective—including fire-resilient building materials and methods. At larger scales, communities can be designed to better resist fire (by incorporating greenbelts or fuel-reduction corridors, for example). Improved evacuation planning and communications infrastructure can make worst-case scenario firestorms less deadly by making it easier to leave affected areas in a safe and timely manner. And there has also been progress toward reducing high-risk wildfire ignitions during extreme wind events—via "Public Safety Power Shut-Offs" by electrical utilities—although such interventions remain highly disruptive, societally inequitable, and probably unsustainable in the long run due to our warming climate.
article date: 2020 09 18
posted: 2020-09-18 14:58:49
Tags: Bay Area ,climate change,noteworthy links
Related News
Wildfires Return to Areas of Wine Country Burned in 2017; Evacuation Orders Hit Santa Rosa, Kenwood, Glen Ellen
Parts of Santa Rosa that either burned or were in view of the burning three years ago were under mandatory evacuation orders Sunday night as more fast-moving fire spread into Sonoma County from Napa earlier in the evening.
Three Major Bay Wildfires Now At or Near Full Containment, Five and a Half Weeks Later
The destructive CZU Lightning Complex fire in Santa Cruz and San Mateo counties was declared fully, 100-percent contained on Wednesday, five and a half weeks after it was sparked and 86,000 scorched acres later.
How California Became Ground Zero for Climate Disasters
The engineering and land management that enabled the state's tremendous growth have left it more vulnerable to climate shocks — and those shocks are getting worse.