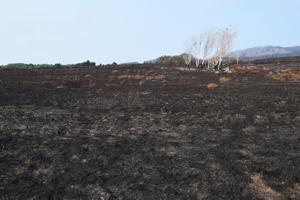 By at www.smdailyjournal.com - RSS Results in news/local of type article
One civilian has been killed and one other injured in these fires, in which almost 1,500 structures have been destroyed, including 928 residences and 171 commercial structures. An additional 90 residences and 16 commercial structures have been damaged.
The CZU Lightning Complex wildfires, which have burned 86,509 acres across San Mateo and Santa Cruz counties since Aug. 16, were 95% contained as of Wednesday evening, Cal Fire said.
article date: 2020 09 16
posted: 2020-09-16 20:21:37
Tags: Bay Area ,climate change,noteworthy links
Related News
Wildfires Return to Areas of Wine Country Burned in 2017; Evacuation Orders Hit Santa Rosa, Kenwood, Glen Ellen
Parts of Santa Rosa that either burned or were in view of the burning three years ago were under mandatory evacuation orders Sunday night as more fast-moving fire spread into Sonoma County from Napa earlier in the evening.
Three Major Bay Wildfires Now At or Near Full Containment, Five and a Half Weeks Later
The destructive CZU Lightning Complex fire in Santa Cruz and San Mateo counties was declared fully, 100-percent contained on Wednesday, five and a half weeks after it was sparked and 86,000 scorched acres later.
How California Became Ground Zero for Climate Disasters
The engineering and land management that enabled the state's tremendous growth have left it more vulnerable to climate shocks — and those shocks are getting worse.