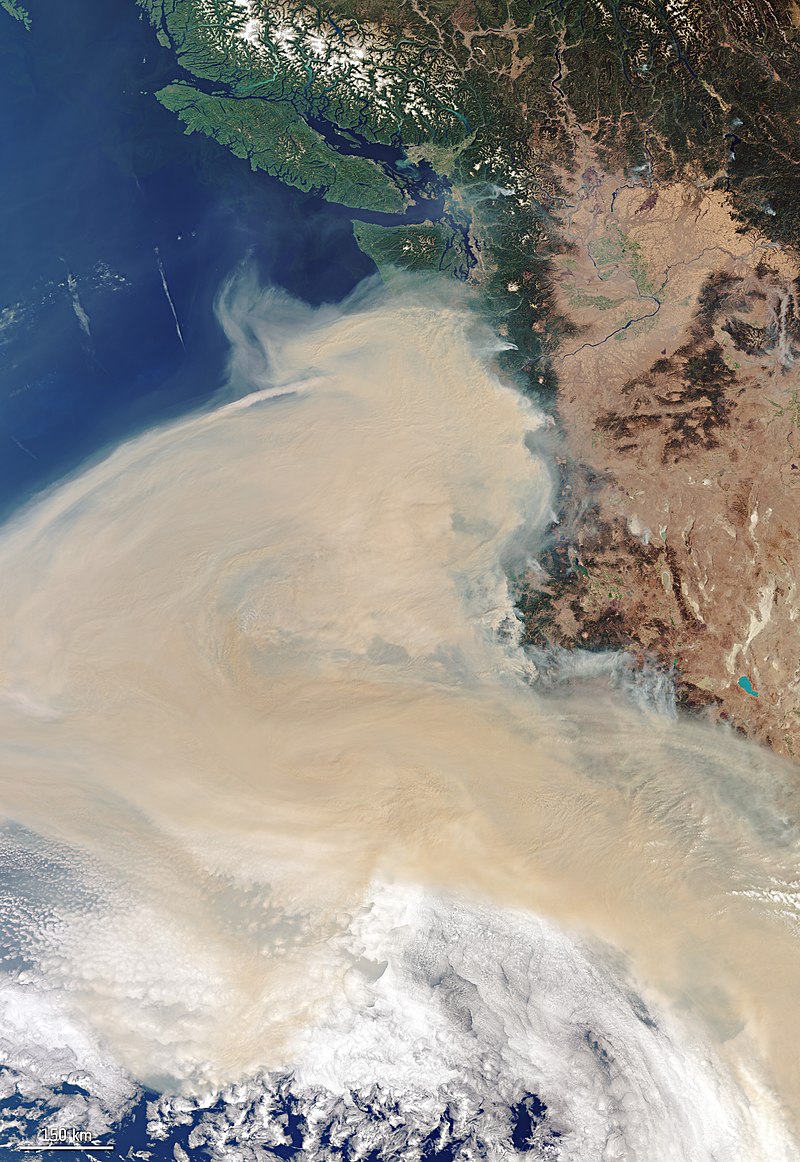 By Daniel Swain at Weather West
Around 3.5 million acres have burned so far in California in 2020. That's around 3.5% of the entire land area of the state, and is approaching double the previous record for the greatest acreage burned during a single year in the modern record (~1.9 million acres in 2018)
Then, on top of all of that: the smoke. An extremely large volume of dense, choking smoke has been generated by these numerous extreme large wildfires across California, Oregon, and Washington–leading to "smokestorm" conditions of historic proportions extending all the way from the Mexican to Canadian border (and even farther, at times). Air quality has ranged from "poor" to "extremely hazardous" across California for many consecutive days–making it difficult to even open windows, let alone spend time outside.Even more dramatic, though, was the vertical depth and density of these smoke plumes last week. At one point, multiple fires were generating explosive pyrocumulonimbus (fire thunderstorm) clouds that injected smoke all the way toward the top of the troposphere and even briefly into the stratosphere. The depth of this smoke column–which extended from the surface to nearly 30,000 feet–was sufficient to essentially block out the sun even at midday in some regions, leading to surreal and Bladerunner-esque scenes throughout Northern California. Aside from dramatically altering everyday life, these dense smoke plumes have also radically altered local meteorology–bringing temperatures 10-20 degrees cooler than the ambient airmass would support as solar radiation was largely unable to penetrate the plumes.
article date: 2020 09 14
posted: 2020-09-14 21:20:10
Tags: climate change,Bay Area ,noteworthy links
Related News
Wildfires Return to Areas of Wine Country Burned in 2017; Evacuation Orders Hit Santa Rosa, Kenwood, Glen Ellen
Parts of Santa Rosa that either burned or were in view of the burning three years ago were under mandatory evacuation orders Sunday night as more fast-moving fire spread into Sonoma County from Napa earlier in the evening.
Three Major Bay Wildfires Now At or Near Full Containment, Five and a Half Weeks Later
The destructive CZU Lightning Complex fire in Santa Cruz and San Mateo counties was declared fully, 100-percent contained on Wednesday, five and a half weeks after it was sparked and 86,000 scorched acres later.
How California Became Ground Zero for Climate Disasters
The engineering and land management that enabled the state's tremendous growth have left it more vulnerable to climate shocks — and those shocks are getting worse.