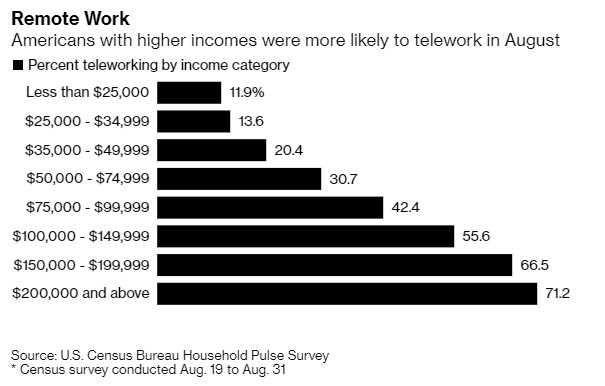 By Ben Carlson at A Wealth of Common Sense
The Wall Street Journal reported this week JP Morgan told senior employees of the bank's giant sales and trading operation that they and their teams must return to the office by Sept. 21.
But there are sure to be many large corporations with the attitude of If you're making this much money, you better be in the office. People on the high end of the income scale may have the ability to work from home now but I wouldn't bet on all of them keeping that perk going forward. There will still be plenty of old school firms with the midset of Netflix and JP Morgan on this.
article date: 2020 09 11
posted: 2020-09-11 13:29:36
Tags: coronavirus,noteworthy links
Related News
The Testing Wars Have Begun: Oakland Airport Wants To Attract Passengers With Free Rapid Covid Testing - View from the Wing
It was only Thursday that United Airlines announced they would offer rapid coronavirus testing at the airport in San Francisco for passengers taking its Hawaii flights. Testing would be available by appointment, with results available in 15 minutes, and the airline hoped the $250 price point would come down in the near future. Since then Hawaiian Airlines also announced same day airport testing coming for its passengers for $150. The State of Hawaii plans to allow people to enter the state without 14 day quarantine starting October 15, provided they present a negative Covid test taken within 72 hours of arrival. United says the state will accept their Abbott rapid tests. Now Oakland airport is announcing that its Hawaii passengers can get rapid tests for free starting October 15.
Johnson & Johnson begins final-stage study of first single-shot COVID-19 vaccine
The study starting today will be one of the world's largest coronavirus vaccine studies so far, testing the shot in 60,000 volunteers in the U.S.
County moves out of most restrictive tier
Additional establishments will now be permitted to expand operations following months of COVID-related restrictions as San Mateo County moves from the state's most restrictive purple tier to the less restrictive red tier.